Turtle Creek Quilters meet on the third Sunday of the month (September through June) at Switlik Park in Yardville (Hamilton), NJ
Click on the link below for a map:
Doors open at 1:00 pm
Meeting starts at 1:30 pm
Monthly Programs
Click link for map to Switlik Park
Until further notice, the 2021 Turtle Creek meetings will be held virtually via a Zoom meeting. A link to the meetings will be sent via email to all members as we get closer to the date.
PLEASE NOTE - all in-person activities are CANCELLED due to Corona Virus restrictions
Upcoming programs:
Block of the Month & Mystery Quilt
All in person meetings include Show & Tell, a Raffle & Tea-cup auction
Photos from Previous UFO Days at Hamilton Library
GPS Address:
1 Joe DiMaggio Drive, Yardville, NJ
then follow the sign for Switlik Park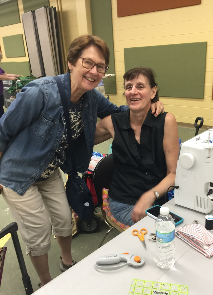 UFO Workshops (Unfinished Objects)
Guild members and other quilters get together on the first Saturday of each month to quilt and socialize and work on individual projects. Guests are welcome to join us.
Come for the whole day, or just part of the day… or even drop in for a short visit while you're out running errands. No reservations needed! Ironing board and iron are provided for your use.
Bring a bag lunch if you're planning to stay for the day.
We meet at the Hamilton Library in Room 3 on the lower level. The Library opens at 9 am, we must be out of the building by 4:45 pm.
Click on this link to locate the library: Hamilton Library
Remember that the library gets cold sometimes, so you might want to bring along a sweater or jacket.
Some members like to bring a cushion to sit on, as they find the chairs a little low.